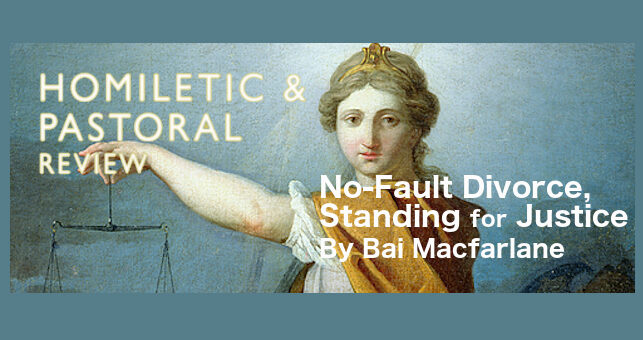 Homiletic and Pastoral Review – No-Fault Divorce, Standing for Justice
Posted by Mary's Advocates
On December 29, 2019
Homiletic & Pastoral Review is one of the most well-respected pastoral magazines in the world. Priests and laymen alike have relied on HPR for decades.
Below are excerpts:
Parish Priests and Divorce
If a devastated woman approaches her pastor because she learned her husband committed adultery, the pastor might advise that she should hire a good divorce lawyer. When a faithful husband with four children tells his priest that his wife has taken their children to his mother-in-law's and is threatening divorce, the priest might tell him to sue her in court to protect his rights.
In accord with canon law, however, the correct response is to teach spouses that their priest can never advise a spouse to approach the civil court. The Church has other solutions that are contained in our canon law. Moreover, many Americans incorrectly assume that justice is dispensed in divorce court. The civil courts are no more qualified to dispense justice in determining spouses' obligations than Planned Parenthood is qualified to decide the rights of a baby.
With the onset of no-fault divorce, the court system became the state's mercenary that takes children and property away from a spouse who has done nothing grave to justify separation of spouses. Divorce is an unjust lifetime sentence that forever gives scandal to children.  . . .
 … Diocesan Authority in the Person of the Bishop Has Competence
The Church has never relegated to the government her responsibility to determine obligations of spouses who have ceased living together. This can be traced through the twenty-first century. In 1563, following the Protestant Reformation, the Church solidified her competence over marriage cases in the twenty-fourth session of the Council of Trent (see canons 7, 8, and 12). In 1788, Pope Pius VI issued his Epistle 'Deessemus nobis', wherein he corrected those who wanted the government authorities to decide matrimonial cases of separation of spouses:   . . .
… Civil Courts Rule Contrary to Divine Law
Governmental no-fault divorce court judges do not weigh whether a Plaintiff has Catholic grounds for either separation or invalidity of the bond, nor do they weigh whether grounds for separation are temporary or permanent. If one party invalidly entered the marriage in which parties are separating, true justice demands that the pertinent grounds for invalidity affect spouses' obligations and aptitudes regarding children, property, and support. Fraud, simulation, grave psychic anomalies, and mental illness should impact financial obligations and custody. For Catholics, adultery and invalidity of marriage are the only grounds for permanent separation, with invalidity always being a basis for terminating the civil marriage status. All the other Catholic grounds for separation, excluding adultery, justify only temporary separation.  . . .
… Upholding Marriage
Misinformation has led Catholics to presume that any individual spouse, on his or her own authority, is permitted by the Church to file for divorce in order for the civil system to decide the obligations of spouses toward each other and their children. It is as if the faithful are to believe that the only obligation of marriage that is relevant to Church teaching is whether a spouse attempts to enter into marriage with a new person without a decree of invalidity. According to canon law, however, the civil forum is only allowed to issue judgements on the merely civil effects of marriage (cc. 1059, 1672, 1692). Anything that involves morality is not a "merely civil effect of marriage"; therefore the obligation to maintain an intact home, the obligation to contribute one's full share of mutual help, and the right to daily access to one's children are not effects of marriage that have ever been relegated to the civil forum.   . . .
. . .  continued  No-Fault Divorce, Standing for Justice  on HPR
Get 4- page PDF version, made available with permission of Homiletic and Pastoral Review.