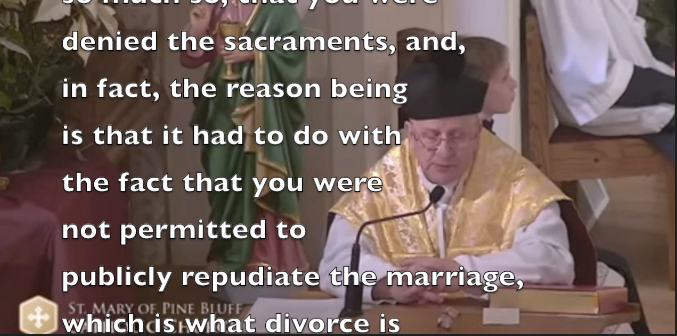 Fr. Ripperger – Divorce is Public Repudiation of the Marriage
Posted by Mary's Advocates
On January 12, 2023
Open letter to Fr. Ripperger,
Dear Fr. Ripperger,
c/o St. Mary of Pine Bluff Catholic Church, Cross Plains WI
Thank you for your clarity regarding no-fault divorce in your homily for the Feast of the Holy Family:

You know historically divorce was strictly forbidden in the Church, so much so, that you were denied the sacraments, and, in fact, the reason being is that it had to do with the fact that you were not permitted to publicly repudiate the marriage, which is what divorce is without first having gone through the annulment process. And recently, they've inverted that process. You have to get divorced first, which is basically the public repudiation of the marriage when you don't even know if that's the case yet. So, there's been an inversion of the process (starting 3 min. 40 sec.).

With the non-profit educational organization, Mary's Advocates, I work to reduce no-fault divorce and support those who are unjustly abandoned.  Do you have time to consider my research findings? 
see full video on St. Mary of Pine Bluff Catholic Church YouTube HERE
In the United States, I found if one sought a civil separation or civil divorce without first having permission from one's bishop, one necessarily merits penalty to be issued by his bishop (1886 Third Plenary Council of Baltimore, art. 126). A bishop could give permission for a Catholic to seek civil divorce under limited circumstances, but annulment  was only one of the circumstances. The other was that the person had a legitimate reason for SEPARATION.  A canonical study of either a case of separation of spouses, or an annulment case, is required prior to a bishop considering giving permission to file for civil divorce.
Even if you conclude that the 1983 Code abrogated particular penal laws, the Code did not abrogate the USA particular law requiring bishop's permission prior to approaching the civil forum.  Furthermore, the 1983 Code included a universal law that requires every party to have his bishop's permission prior to approaching the civil forum. The only exception would be if there was a concordat treaty between the Church and state. Before the 1983 Code existed, other universally authoritative Church documents also required episcopal intervention prior to a party petitioning the civil court for divorce or separation.
The Church has exclusive competence over cases of separation; divorce is really just a separation arrangement forced by the plaintiff, who is aided and abetted by the state.  I love how you say divorce is a public repudiation of the marriage.  To consider my research, you can check out the following:
Sincerely Yours in Christ,
Bai Macfarlane
Mary's Advocates