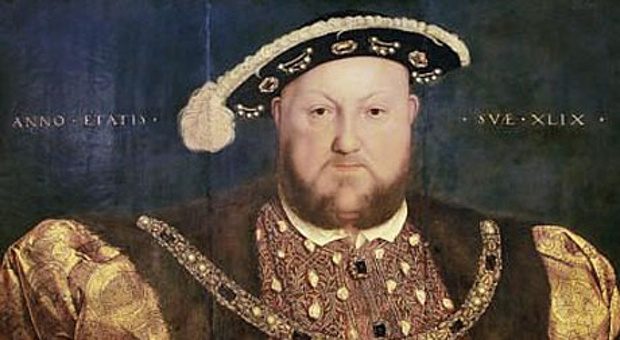 Federal government subsidizes divorce and penalizes parents
Posted by Mary's Advocates
On February 7, 2016
by Bai Macfarlane
This article was first published at Spero News on February 7, 2016
The father of a two-year-old Patrick, and anyone concerned about the social conditions in which our children are raised, want the judges in north-eastern Ohio to follow the laws designed to protect the upbringing of children. About five years before Patrick was conceived, his parents were married by Judge John Trebets. In Ohio law, when parties solemnize their vows, they "contract towards each other obligations of mutual respect, fidelity, and support;" marital abandonment is a crime (ORC 3103.01, 2919.21(A)(1)). Patrick's Dad was in the military, and because of travel constraints, Mom and Dad were first married by a judge, and later had their marriage solemnized in the Catholic Church.
Unfortunately for little Patrick, his Mom left the marital home, and thereafter filed for divorce in Lake County OH. Will the judge who married them help little Patrick now? Judge Trebets is a Magna Cum Laud graduate from Cleveland State University.
Little Patrick's Dad, Kevin Flanagan, told Mary's Advocates about his wife in an e-mail interview, that the "reason she left is because she met someone else."
"I was (and am) willing to participate in conciliation counseling; I am still willing to reconcile for my son. As a child of divorce myself, I know how horrible it is growing up in a broken home. My own experience and loads of empirical research suggest my son's life will be much better growing up with a complete family. Also, this would give me back the half of my son's childhood divorce would steal from me."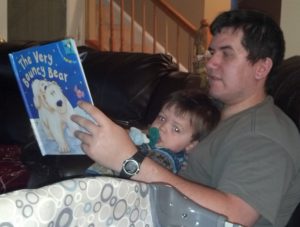 In Ohio, the court does not have jurisdiction to grant a divorce to a Mom, just because she asks for it. The legislator who pushed through Ohio's no-fault divorce laws said, "it took both parties to enter into the marriage, both should be involved in deciding whether to terminate it." Legislative records from the state capitol are published on ProFamiliesOhio.com website, a work of the non-profit organization, Mary's Advocates, dedicated to uphold marriage in light of no fault divorce.
If Dad (Mr. Flanagan) is not guilty of any of the fault-based grounds, like extreme cruelty or adultery, the state can't force a divorce on a husband unless he agrees to be separated from his wife, or unless the husband agrees he want's the divorce. Marital abandonment is a crime. Mr. Flanagan told the court that he doesn't want a divorce by denying allegations of incompatibility.
On June 1, 2015, using the form published by the Supreme Court of Ohio, "Answer to Complaint for Divorce with Children," Dad (Flanagan) asked the case be dismissed because no grounds for divorce exist. Moreover, the original complaint for divorce filed by his wife's lawyer did not even specify what charges were being made against Dad. The lawyer for Mom, Lauren M. Wellen, told the court that Dad is "guilty of such conduct that provides her grounds for divorce pursuant to ORC §3105.01."
However, three weeks after Dad asked the case to be dismissed, he was financially penalized, even though Mom may have been a criminal abandoner. Instead of dismissing the case, or having a hearing giving Dad a chance to defend that he was innocent of the non-specific allegations, the Lake County domestic relations Judge, Colleen Falkowski, ordered Mr. Flanagan to start paying Mom $651/month in spousal support, and later $476 in child support.   The judge made Dad the non-residential parent for visitation purposes.
Conscientious tax payers demand that an elected judge needs to require a complainant's lawyer to describe the specific offenses that a Defendant allegedly committed, at least in a general way, before the judge wastes valuable court time on adjudicating a case and penalizing an innocent Defendant.
County divorce courts earn federal incentives 
But divorce court is managed differently. When counties collect child support, they get financially rewarded by the Federal government. Prior to being the county divorce judge, Judge Falkowksi worked as an assistant prosecuting attorney and supervising attorney for the Office's Child Support Division.  During her tenure as divorce judge, Mary's Advocates recovered data from the Ohio Office of Child Support, Bureau of Policy. The federal government paid Lake County $432 thousand dollars in incentives for the 2008 child support collection program.
Overlooked Ohio Laws that are Pro-Family and Pro-Marriage
The most recent data from The Ohio Department of Health and Human Services shows that Lake County issued 643 divorces involving 564 minor children in 2011. There were 1252 marriages that year.
According to the Ohio law, the Lake county public servants have the power to encourage Patrick's Mom to work with those experienced helping improve marital relationships. When Mom left, though Dad did nothing grave enough to merit separation of spouses, the state could have reminded Mom of the contract she made in Ohio law, of respect, fidelity and support toward Dad. The court could have reminded Mom that marital abandonment is a crime in Ohio.  The judge, could have ordered Mom and Dad to participate in conciliation with and expert "to effectuate conciliation of marital controversies." Ohio law requires the common pleas judges to determine whether the social conditions are so severe or the number of divorces so high, that the county county should provide conciliation services  (3117.01).  Do the hundreds of minor children effected by Judge Falkowski's divorce decrees deserve help from someone that would encourage a marital abandoner to keep the contract made when she or he married?
Conciliators
Greg and Julie Alexander, of The Alexander House, do marriage coaching, and they say "Most do not want a divorce, they just want to be happy again." The National Institute for Marriage has an 85% success rate in their two-day intensive seminars for those who felt all hope for their marriage was lost many of the couples already have open divorce cases. According to one program's home page "Many lawyers and judges send couples to Retrouvaille as a prerequisite to filing for a divorce or rendering final decisions … Thousands of couples headed for cold, unloving relationships or divorce have successfully overcome their marriage problems by attending the program."
Damage to Children
The Journal of the Ohio State University Extension, shows the children of divorce have lower income and lower standard of living: "Well-documented studies show that children of divorce are referred to mental health agencies more than children of 'intact' families, and parents report higher incidence of behavioral and emotional problems after divorce."
However, Judge Falkowski's court's website appears to say that it is not divorce per-se that hurt children, but only whether both cooperate with it nicely: "The fact that you are getting a divorce is not the most significant factor that affects your children. It is how you will manage the divorce that has the most effect.
Stephen Baskerville, scholar and author explains the injustice in no-fault divorce "With no-fault divorce, the spouse who divorces without grounds or otherwise breaks the marriage agreement (for example, by adultery or desertion) thereby incurs no onus of responsibility. Indeed, that spouse gains advantages." Baskerville is an associate professor of government at Patrick Henry College and author of Taken into Custody: The War Against Fathers, Marriage, and the Family.
Judge Falkowski has not yet issued the final divorce decree on little Patrick's family. Unless something changes, Kevin Flanagan will be chased by the Child Support Enforcement Division until Patrick is eighteen years old. Patrick's Dad never would have agreed to start a family with a woman, unless that woman promised to cooperate with Dad to provide an intact home for their children. Dad expected that the resources of two parents would maintain one home, but instead, Dad is finding that his own resources are being garnished to support Mom in a separate home, which was never part of his original marriage agreement.
Because no public servants took advantage of the Ohio law designed to keep marriage together, Patrick will suffer, but Lake County will continue to collect their Federal incentives for collecting child support.
Spero columnist Bai Macfarlane is the founder of Mary's Advocates.