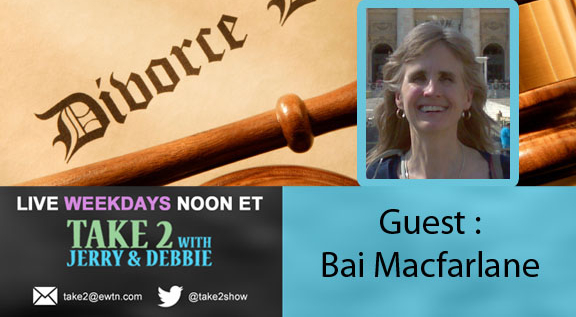 EWTN Take2 Radio, The Harm of No Fault Divorce
Posted by Mary's Advocates
On March 6, 2017
EWTN's Take-2 is a daily call-in show hosted by Jerry Usher and Debbie Georgianni (take2show.com).  Bai Macfarlane was guest.
Discussion surrounded the injustice of unilateral no-fault divorce, and offered divorce defendants a support network.   Mary's Advocates' practical resources were described: monthly phone conference calls; petition to Bishop to try to stop a breakup; and "True Marriage Proclamation Set" wherein parties assert their claim to have their marriage managed by those who respect the parties' marriage promises.
For those who are unjustly abandoned, Bai points out how we are called to respond to our offender when undergoing a grave injustice.
.
March 6, 2017, 12 noon Eastern.
Bai talks about recent book review of title from the John Paul II Institute on Marriage and Family. The authors expose how, sometimes, marriage therapists make matters worse, because they make a subjective determination about which marriages are worth trying to save. The book is "Torn Asunder: Children, the Myth of the Good Divorce, and the Recovery of Origins".
After host Debbie describe the horror in divorce courts, Bai says, "With the Little Sisters of the Poor; everyone was on their side when the law was saying they have to pay for contraception.  Well, we could do the same thing with marriages. Like, why should an innocent husband have to pay money to an abandoning wife? Why?" (min. 23).
To one animated caller, Jerry  points out, "It is understandable. What we are talking about here is not like when you get together with somebody and you say, I'd like a chicken sandwich, and they give you pizza. This [being divorce] is being violated in a very profound,  intimate, emotional, and metaphysical way.  We haven't even talked about the ones flesh union, and how divorce ultimately and essential does violence to that" (min. 47).