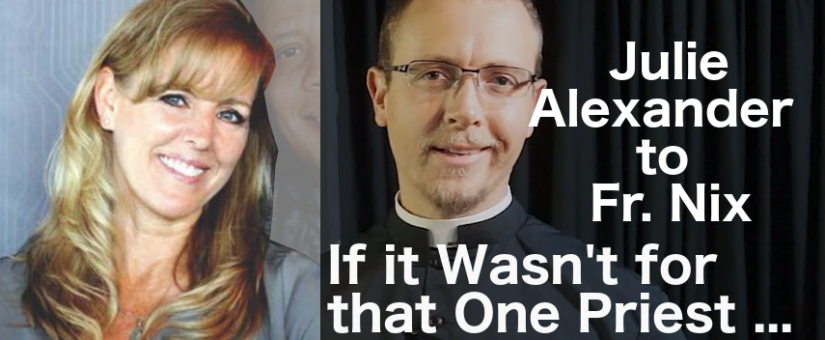 One Priest Saved Thousands of Marriages from Divorce
Posted by Mary's Advocates
On May 10, 2019
Do your diocesan priests point couples in crisis to divorce and annulment or toward reconciling?
Julie Alexander says that if it weren't for the priest that gave them direction toward healing, she and her husband would never be together today, and neither would the thousands and thousands of couples they helped who were on the brink of divorce. She says it is an atrocity when Church administrators tell a spouse in crisis that "we can help you get your annulment," rather than directing the couple to sources that a priest knows can bring healing.
3-minute excerpt 
Greg and Julie Alexander were interviewed by Fr. David Nix who has been a priest for nine years, and has the website Padre Peregrino.
The podcast describes how, decades ago, the Alexanders had both agreed they wanted to divorce. A catholic counselor was useless and told them that they were probably not meant to be with each other.  Lucky for them, the Alexanders met with a priest who asked them "what is God's plan for marriage, what does our Church teach about the sacrament of marriage, and what are some of the writings of St. Paul and the various Holy Fathers dealing with marriage?" Greg went home and began to study, and he says that after much humbling of themselves and orienting their marriage to God's plan, they restored and healed their marriage.  They even knelt on the floor at the side of their bed and Greg prayed that if their marriage were healed, they would dedicate themselves to helping other restore their marriages too.
Many acquainted with those in marriage crisis sit back and do nothing, or worse, encourage the break up. The Alexander House provides marriage discipleship to couples. They also train Covenant of Love Marriage Mentors, and Greg says the Archdiocese of Dubuque just hosted them to train mentors.
For more information, see The Alexander House.
---
(full podcast 59 minutes at Glad Trad 5: The Alexander House – Padre Peregrino
---
Prior to any divorce or long-term separation, those who had a Catholic marriage ceremony are required to undergo an ecclesiastic process first (canonical separation of spouses). The diocesan personnel managing the process are obligated to use pastoral means to try to facilitate reconciliation and they also can employee mediators who are expert at helping parties reconcile. Mentoring couples, or marriage discipleship would facilitate these mediations.