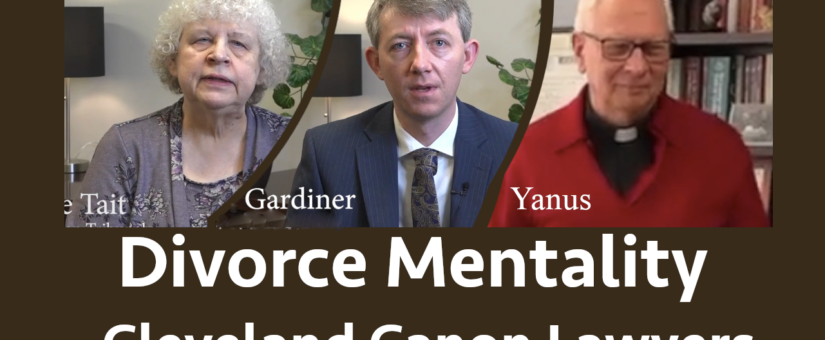 Divorce Mentality – Cleveland Canon Lawyers
Posted by Mary's Advocates
On January 20, 2023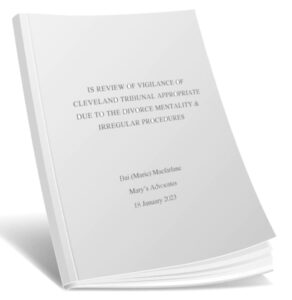 Today, I'm sending a copy of my lengthy paper to the Supreme Tribunal of the Signatura and Cleveland's Bishop Edward Malesic, J.C.L.  Cleveland grants annulments to virtually 100% of the petitioners, and I assert that some diocesan canonists spread the divorce mentality.
Click to get full paper, "Is Review of Vigilance of Cleveland Tribunal Appropriate Due to the Divorce Mentality & Irregular Procedures." Read Foreword and Introduction below.
I sent a print copy to the to the Supreme Tribunal of the Signatura asking them to do their job – i.e., ensure the correct administration of justice. I'm asking the Signatura to resolve issues like the following:
▪ Did Gaudium et spes and the 1983 Code upend the Object of Matrimonial Consent? Is there canonical action judging legitimacy of departure
▪ If [Roman Rota] coram Florczak's parameters are still applicable, and Gardiner is incorrect, then the Signatura could correct irregular reasoning used by Cleveland.
▪ Can a judge reject a libellus asking for a ruling that there are no legitimate grounds for respondent to leave the family home, because the petitioner hopes the respondent ceases separation?
▪ If an ecclesiastic judge is competent to determine a spouse's obligation or contribute his full share of mutual help, the Signatura could correct confusion caused by Gardiner.
▪ If Cleveland is neglecting the Church's exclusive competence in cases of separation of spouses by requiring every nullity petitioner to already have a civil divorce, with no mention of Church separation judgment, the Signatura could correct irregularities.
Foreword
It is disheartening that clergy and other diocesan personnel in the Diocese of Cleveland affirm a civil divorce plaintiff breaking up his family without any opportunity for the other spouse and children to uphold their rights. Those with marriage difficulties are often told they have an invalid marriage caused by lack of discretion (i.e., 1095, 2º). Mary's Advocates is working to slow this pattern as part of our effort to reduce unilateral no-fault divorce and support those who are unjustly abandoned. We hope the Church's response when a spouse separates, files for divorce, or challenges the validity of his marriage will be an occasion of conversion, reunification of a family, and reconciliation of spouses. Conversion could happen when the Church points out the real reason for separation. In a recently published forward for a book about consensual incapacity to marry, Cardinal Raymond Burke writes, "to deceive another, either deliberately or by negligence, regarding his sacramental status and the real reason for which his marriage has failed, is to is to deny him not only the truth, but also the occasion of grace that can lead to a conversion of life."[1] The study herein is offered to any party who may find it useful. Plus, it is an attempt to ask canonical authorities to put into practice policies which facilitate conversion, and instruct the faithful of separation plans that are in accord with divine law. I entrust the outcome into the watchful protection of Our Lady, St. Joseph, and St. Maximilian Kolbe.
Introduction
This study cites teachings of three canonist in the Cleveland Diocese (Fr. Gary Yanus, Ms. Lynette Tait, and Mr. Vincent Gardiner) and proposes that the divorce mentality has permeated those responsible for teaching about, and judging, marriage cases. Canon law expert, Edward Cardinal Egan says the divorce mentality is held by those who believe a marriage should be ended if the marriage is not sufficiently 'relational' or fulfilling.[2] Saint Pope John Paul II taught that "one cannot give in to the divorce mentality" in his 2002 address to the Roman Rota.[3] If the Signatura decides to study statements of the abovementioned canonists and some marriage cases judged in Cleveland, it is proposed that the Signatura could uncover irregular practices and opinions. Relevant cases are from parties who were no-fault divorce defendants in the civil forum who asked for ecclesiastic intervention related to divorce—some of whom later were respondents to accusations of nullity.
Imagine a dissatisfied spouse complaining to a priest about something that can be considered a failure to achieve desired level of community of life and love. Knowing little about the situation, a number of priests in Cleveland say something like the following: "you sound like you have an invalid marriage" and "you have a good reason to file for divorce."  Thereafter, the emboldened dissatisfied spouse files for no-fault divorce and unwaveringly tells any challenger, "Fr. So-and-so told me I can file for divorce." The Ohio courts will permanently force the children to lose everyday access to one or both parents, even if the divorce defendant is pleading with the plaintiff to cooperate with experts who have a high success rate of helping couples strengthen their marriage. The no-fault divorce courts will financially devastate the defendant and children because the family no longer has two parents contributing mutual help to one household. Anyone close is scandalized by the Church tacitly or blatantly condoning marital breakup, and, thereafter, apparently granting annulments to every petitioner. Readers are asked to consider whether the three canonists presented here are advancing the divorce mentality.
Fr. Gary Yanus was ordained in 1981 and worked for the Cleveland Tribunal in 1984 before earning his JCD from the Angelicum in 1990. He became the adjunct Judicial Vicar in 1990 and has been the Judicial Vicar since 2002.[4] The Diocese website shows, "Since 2006, Rev. Yanus has served on the faculty of Saint Mary Seminary and Graduate School of Theology in Wickliffe, as professor of canon law."[5] Ms. Lynette Tait earned her JCL from St. Paul University in Canada, has been working at the Cleveland Tribunal since the year 2000, and has been adjunct faculty at Notre Dame College and Ursuline College.[6] The diocesan graduate school seminary  shows that she is adjunct faculty for Pastoral Theology – Diaconal Ministry, Canon Law.[7] In 2022 she taught a course in Canon Law to "anyone interested in working with people on marriage cases."[8] Mr. Vincent Gardiner has been working for the Cleveland Tribunal since 2015.[9] Gardiner earned his master's degree (2011. Society, Law and Religion) and his licentiate (2014. J.C.L.) from KU Leuven.[10] His alma mater was founded as a Catholic University in the fifteenth century, however, in 2011, the university dropped the word Catholic from its name, reportedly because "We are independent of the church, and that's what we now want to stress," says the rector of the university.[11]
… continued …
see full paper
---
[1]  Raymond Cardinal Burke's Forward, in Catherine Godfrey-Howell, Consensual Incapacity to Marry (South Bend: St. Augustine's Press, 2022), xxiii.
[2] The mentality of divorce is described by Edward Egan. "[It] is what has somehow taken hold even among a goodly number of good Catholics, not in the sense that they openly and avowedly deny the permanence of the marriage bond, but in the sense that they have allowed themselves to make their peace with the 'reasonableness,' the 'logic,' above all, the 'value' of putting an end in an orderly and civilized fashion to marriages which have not proved to be sufficiently 'relational,' lively, loving, completing, developing, and/or fulfilling" (page 232) [Edward Egan, "The Permanence of Marriage and the Mentality of Divorce," Smith 221-235, page 232 . Smith, Russell, ed. Trust the Truth: A symposium on the Twentieth Anniversary of the Encyclical Humanae Vitae. Braintree, MA: The Pope John XXIII Medical-Moral Research and Education Center, 1991.]
[3] Pope John Paul II, "Address Of John Paul II To The Tribunal Of The Roman Rota," 28 January 2002, English, https://www.vatican.va/content/john-paul-ii/en/speeches/2002/january/documents/hf_jp-ii_spe_20020128_roman-rota.html
[4] Laura Ieraci, "New Chancellor Serves Church of Youth," Horizons, 15 April 2018, https://parma.org/news/new-chancellor-serves-church-of-youth.
[5] "Diocesan Vicar General and Judicial Vicar named to Ursuline College Board of Trustees," Diocese of Cleveland, 5 January 2018, https://www.dioceseofcleveland.org/news/2018/01/05/diocesan-vicar-general-and-judicial-vicar-named-to-ursuline-college-board-of-trustees.
[6] First Friday Forum Of Lorain County, "The work of Tribunals, Annulments," PDF publicity flyer, 5 May 2017.
[7] "Adjunct Faculty," Saint Mary Seminary and Graduate School of Theology, accessed 14 November 2022, https://www.stmarysem.edu/adjunct-faculty/.
[8] Diocese of Cleveland, "2022 Canon Law Course," Diocesan Memorandum 56, no. 2 (Feb. 2022), accessed 21 November 2022, https://www.dioceseofcleveland.org/offices/chancellor/diocesan-memorandum/february-2022.
[9] "Tribunal Staff and Contact," Tribunal Diocese of Cleveland, archived 22 June 2015 by Web.Archives.org, accessed 14 November 2022, https://web.archive.org/web/20150622045239/http://www.dioceseofcleveland.org/tribunal/staff/
[10] "Vincent Gardiner, Canonist," Linkedin.com, accessed 14 November 2022, https://www.linkedin.com/in/vincent-gardiner-a6527a18/
[11]  "KU Leuven Drops 'Catholic' from its Name," Flanders Today, 14 December 2011. Archived by Web.archive.org, Accessed 14 November 2022, https://web.archive.org/web/20171011031251/http://www.flanderstoday.eu/current-affairs/ku-leuven-drops-%E2%80%9Ccatholic%E2%80%9D-its-name